We can all think of a few missing keepsakes from our past – a class ring, favorite vinyl, childhood blanket, or, in the case of Billy Corgan, a hand-painted guitar that led to the success of a platinum studio album. The lead singer-songwriter of the alt-rock band The Smashing Pumpkins was missing his beloved guitar for nearly three decades before finally being reacquainted with it on February 5, 2019 – with a little help from us.
This incredible story of lost and found is one that we're honored to be part of, and if you're wondering how we orchestrated a reunion like this after so many years had gone by, allow us to paint the picture:
Corgan's early 70s Fender Stratocaster was more than just another guitar. He hand-painted it himself and used it to record The Smashing Pumpkins' debut studio album Gish. Corgan notes that the guitar can especially be heard in the beginning of "Snail", a smash hit from the platinum album.
The guitar was stolen out of St. Andrews Hall in Detroit following a show in 1992 and over the years, Corgan often wondered where his treasured guitar ended up. He even offered a $20,000 reward to whoever possessed the guitar. Of course, rock n' roll fans far and wide went into a massive search, only to find a few fakes and ultimately come up empty handed.
Fast-forward to 2019 and a Michigan woman named Beth James. James had picked up a guitar that she bought at a garage sale more than ten years ago, for a mere $200. When a guest at her house recognized the guitar as being a possible match to Corgan's missing guitar, James approached her friend Will Carter at Music Starts Here to see if he could help.
That's where we come in. Will Carter enlisted the help of our very own industry expert and CEO, Alex Heiche to get in touch with Corgan, and so he did. After several picture exchanges of the guitar, Corgan was fairly certain he'd finally found his stolen treasure, but had to be sure. In the month following, our team here at Sound Royalties orchestrated a meeting with Corgan and James in West Hollywood and as they say, the rest is history.
"I never would have imagined that my yard sale guitar was worth much money, let alone being sought after by a rock legend who was robbed of it," said James.
Heiche, James, and Corgan met at the Sunset Marquis for the big reveal. Everyone was excited, nervous, and anxious, all at the same time. Is this really it? Understandably enthusiastic, Heiche and James stared at Corgan as he opened the guitar case. After several (long) seconds, Corgan cracked a smile confirming it was his guitar.
"While I always thought the guitar would come back to me somehow, I wasn't sure from the pictures that this would be the time," said Corgan, "but I had to try. It had become a piece of me as a musician and key part of our story as a band. I'm so grateful to Beth, Sound Royalties, Music Starts Here, and everyone else who helped make this reunion possible," he continued. "This is awesome."
Corgan wasn't the only happy one. Heiche sent our team a message confirming the guitar's legitimacy and our office erupted in celebration.
Beth James insisted that she wanted nothing more than the guitar to end up with the rightful owner, but Corgan and Sound Royalties refused to let her walk away empty handed. Sound Royalties bought a new guitar for her and Corgan signed it.
"Of course, I was going to do the right thing. Getting to meet Billy and seeing how excited he was, was honestly the icing on the cake," James said. "Plus, I'm now going home with a signed guitar and an even better story."
We're thrilled that everything came full circle for Corgan and his long-lost guitar. Since he has been back with his guitar, we have seen Billy share stories on social media about new music to come using the infamous "Gish" guitar. We can't wait!
This incredible story has gone on to get worldwide pickup, but if you'd like to read the original article that broke the news, check it out via Rolling Stone here: http://bit.ly/2DYrDox
You can also watch Corgan tell the story himself here: http://bit.ly/2H4tlq6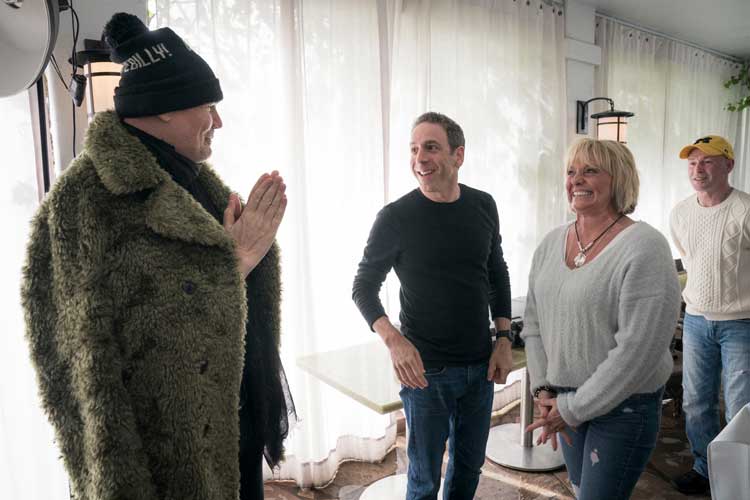 About Sound Royalties
Founded by CEO Alex Heiche, Sound Royalties, LLC is a privately-owned specialty finance firm that helps music industry professionals fund personal and professional projects without ever losing ownership of their copyrights and allowing for overflow income. The company's core business is offering royalty advances of anywhere from $5,000 to $10 million. It does this by advancing artist, producer and songwriter royalties paid through music labels, distributors, publishers and PROs such as SoundExchange, BMI, ASCAP, SESAC and many more. To date, Sound Royalties, LLC has worked with a wide range of leading music industry professionals, including GRAMMY Award winners, platinum recording artists and notable music industry executives in every genre.